The proposed development will provide approximately 800 co-living studios in a 46 storey building with associated support facilities, including kitchen, living, dining amenity spaces, lower floor community amenity areas, co-working spaces, café, cinema and gym, and upper floor sky lounge amenity spaces, winter gardens and external roof terrace areas. The proposals also include extensive amendments to the to the public realm and external amenity space within the site.
The proposals are an elegant, high quality residential solution that will positively contribute to not only the local area and emerging tall building cluster within the immediate surrounding of the site, but also the wider context of Canary Wharf and Millwall.
Below we can see how the ground floor and first floor is likely to be laid out. As you can see, amenity space is marked in purple, the café is marked in yellow, and the fitness studios/gymnasium are marked in green.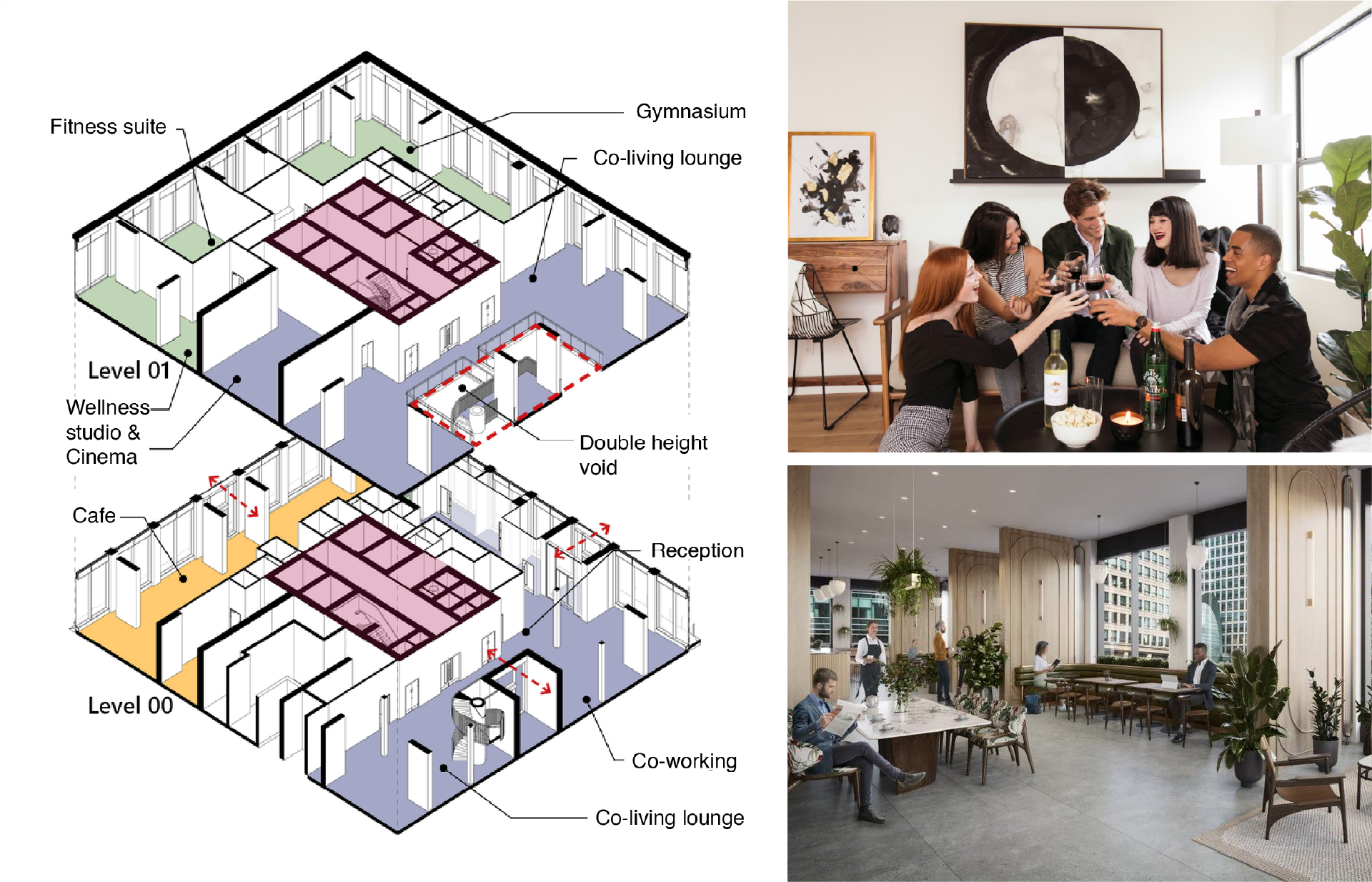 The kitchen, living and dining spaces provided as part of the co-living scheme will be in clusters over three floors serving 57 studios (19 per floor). This allows for convenient access to communal kitchen, living and dining spaces without the need to wait for a lift. Residents will be able to walk to these spaces within a minute of leaving their studios. Click the image below to view it in a larger format.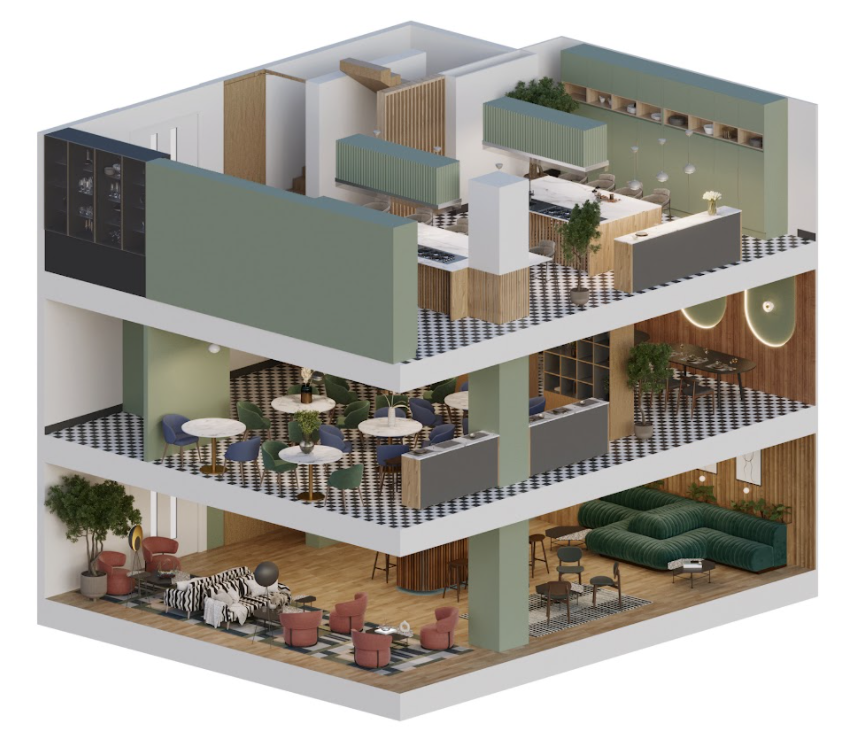 Following a series of pre-application discussions with Planning Officers the amenity space per studio has increased. Similarly, the provision of kitchen, living and dining space per level has increased.
The two plans below show how the kitchen space might be laid out to cater for 57 co-living residents, and how a typical studio might be laid out.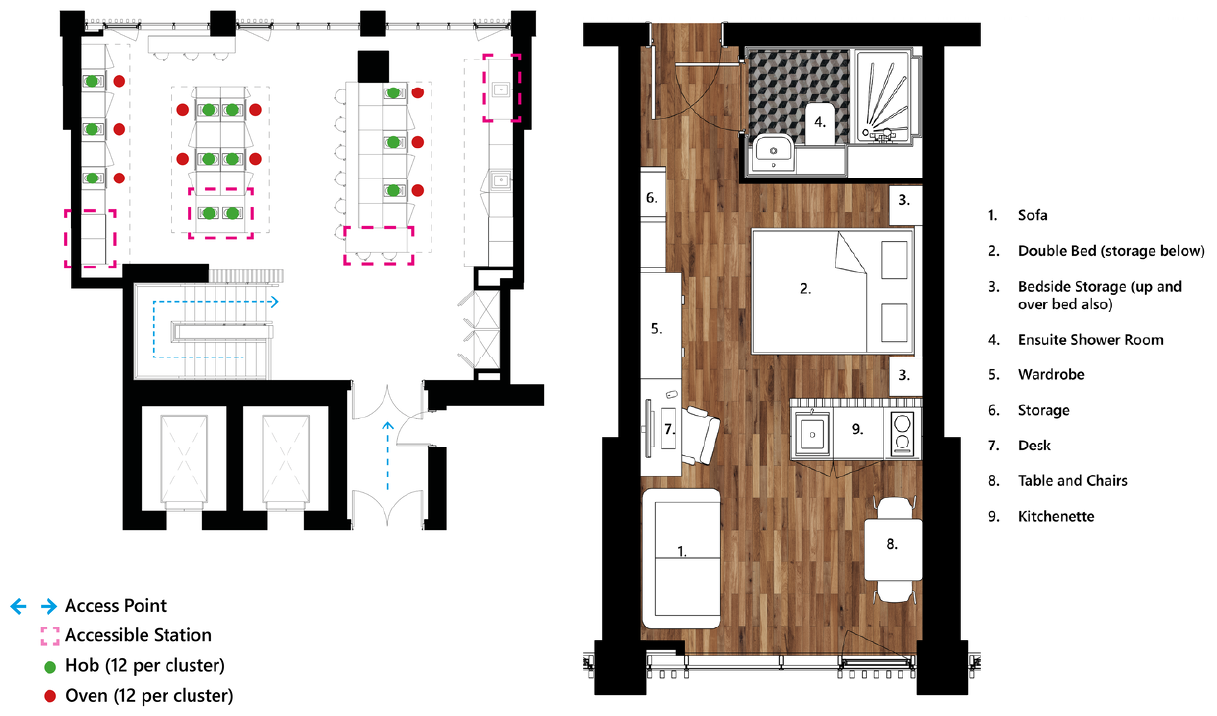 Typically, each kitchen space will feature 2 double bowl sinks, 2 American style fridge freezers, 5 tall breakfast bar stools, 2 low level stools and a 5.4m breakfast bar.
There will be a total of 12 cooking stations per kitchen area which will be made up of a 2-ring hob and as well as an oven. These are marked in green and red on the concept plan above, 2 integrated microwaves will also be provided allowing for alternative methods of cooking.
This will allow 14 out of 57 residents to cook at any one time. Therefore, across all kitchen, living and dining spaces there are 197 cooking stations available at any one time. This allows 25% of residents to cook simultaneously.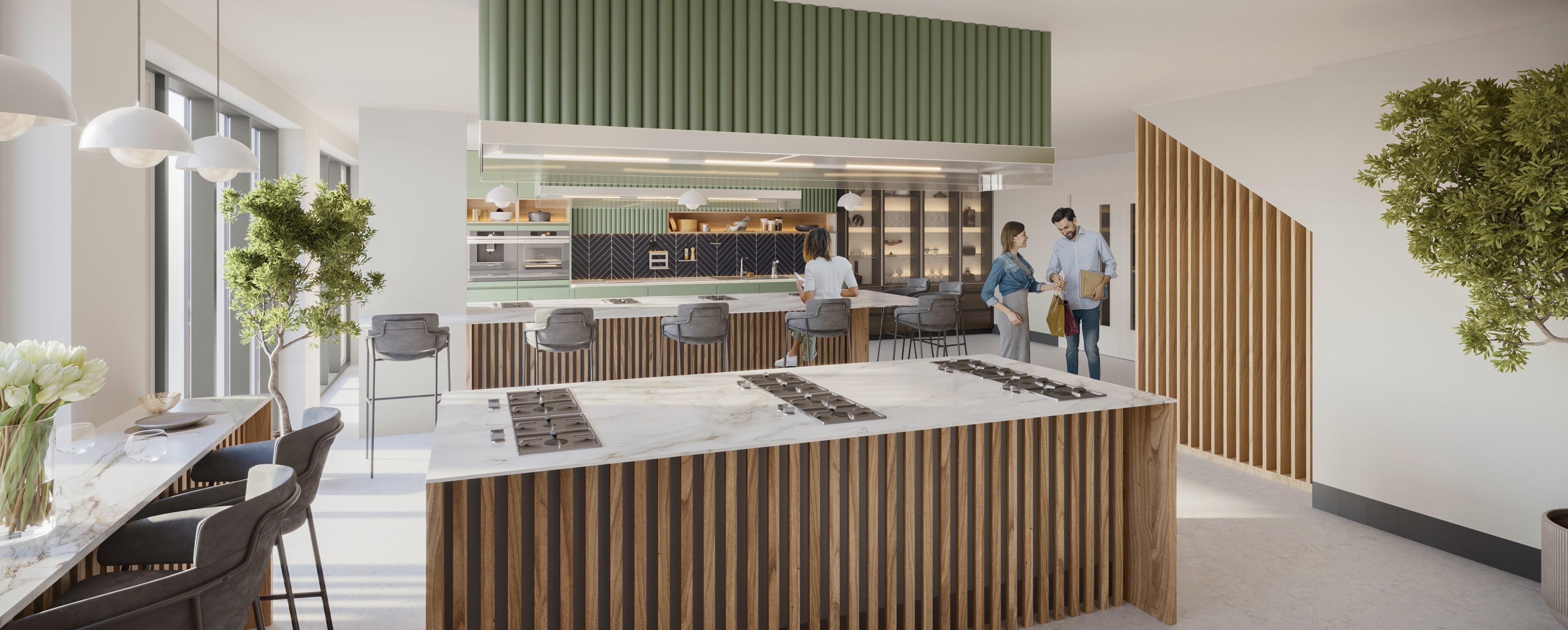 Each studio will typically feature a sofa, double bed with storage below, an ensuite shower room, wardrobe, storage, tv & desk, table & chairs as well as a kitchenette.


On average, the studios at 56 - 58 Marsh Wall will be larger than other comparable schemes. However, Olympian Homes recognise that design is also an important element as is providing varied communal space.