The landscaping design takes into the account the building next door at 54 Marsh Wall and has been influenced by three principles:
• Enhancing current landscaping,
• Enhancing connectivity and
• Creating a sense of home for the new community of 56 - 58 Marsh Wall.
Green Infrastructure
These proposals aim to enhance current landscaping, support sustainable drainage and mitigate pollution. The site presents a number of opportunities to achieve of aim of enhancing current landscaping and a number of ideas are currently being explored, these include:
• A well connected public realm
• A community plaza
• Removed trees to be replaced with a higher number
• Potential pocket park for local residents and an informal play area
• Potential for planted buffer zones
• Proposed rain gardens and potential to introduce more rain gardens within Byng Street
Connectivity
The proposals have been designed to connect with the wider context of the Isle of Dogs, integrating with nearby streets and open spaces.
Home and place making
We want to provide new urban landscaping for future residents to enjoy both at ground level and roof level. Most of all, we want to create a space which future residents can feel safe and at home.
We have provided a series of images of how the new landscaping space will look.


Above: Views to south west from Cafe area towards 54 Marsh Wall, and to the north-west from Cafe area towards 54 Marsh Wall

Above: Views to the north under tree canopy towards Marsh Wall, and to the east towards outdoor lobby area within Pocket Park


Above: Views to the north-west into Pocket Park, and to the north-west towards rain garden
The proposals also incorporate a landscaped roof and winter garden comprising of a BBQ area, trees, shrubs in planters, benches/planters, a pergola, indoor planting and trees as well as a preserved moss wall.
Waste collection
Refuse will be collected from within the site boundary. Refuse vehicles will be able to access and depart the site via Byng Street. Should the Liveable Streets team proceed with the pedestrianisation of Byng Street, it will be possible to introduce moveable bollards to allow service vehicles to access the site.
The number of bins has been calculated using London Borough of Tower Hamlets standards provided in Appendix 4 of the Tower Hamlets Plan 2031. Bins will be stored in the basement and wheeled out on collection days.
Current estimates suggest that 61 bins each holding 1,100 Litres will be required. Node are currently investigating the possibility of using a waste compactor to reduce the bulk of the waste, thus reducing the number of bins required.
Here we can see how the basement will be laid out. The bin store is marked in orange with the refuse chute marked in green. As discussed above, the possible waste compactor is marked in grey. Click the image below to view it in a larger format.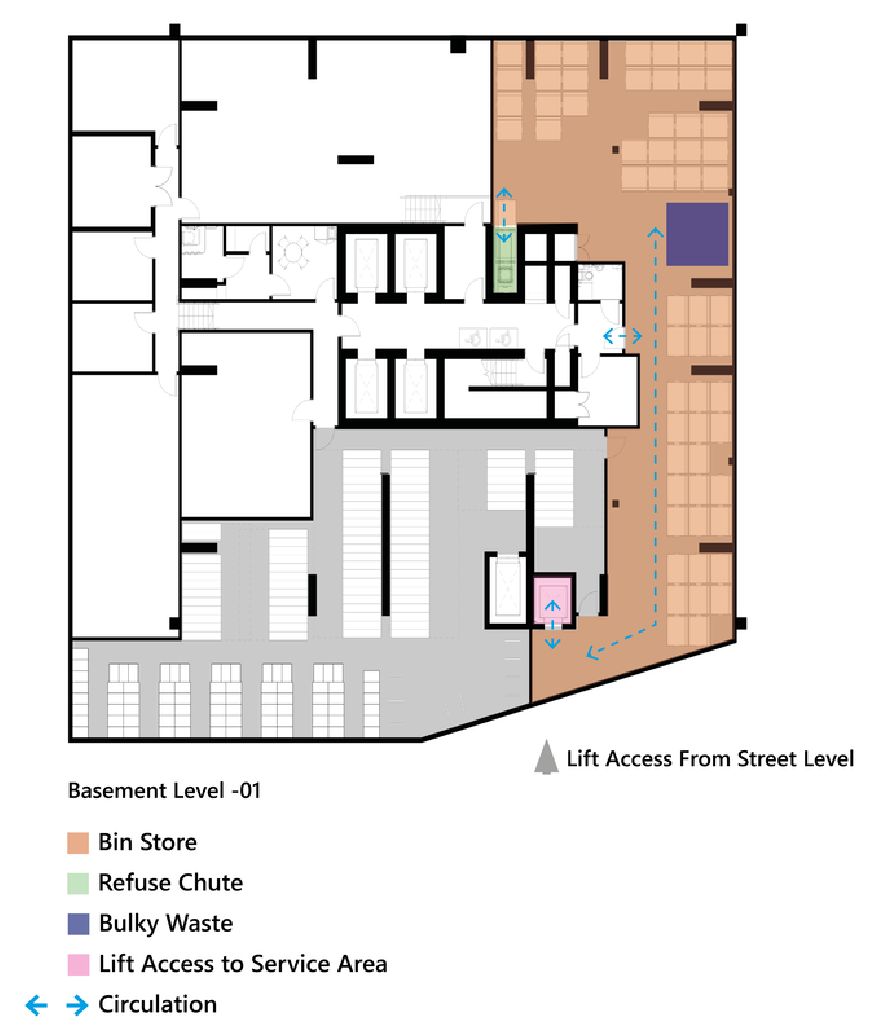 Cycle Parking
Under current proposals, it is proposed to provide the building with around 56% cycle parking coverage, this equates to approximately 425 bikes. It is currently anticipated that 56% of cycle parking spaces will be allocated to a bike hire scheme. The bike hire scheme will be operated by a recognised operator who will be appointed by Node. We have provided a likely breakdown of cycle parking below. In addition, 21 short stay cycle parking spaces (Sheffield Stands) will be provided within the public realm. This is in accordance with the London Plan.
Car parking
The proposals are for a 'car free' development meaning there will be no on-site parking. It is anticipated that the majority of future residents will be working in and around Canary Wharf which is within a ten-minute walk of the development.